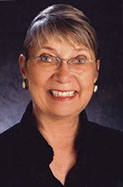 Recipient of the 2002 Alice P. Kenney Award for research and writing on the food customs and diet of the Dutch settlers in New Netherland
Hudson Valley food; Dutch colonial food history; recipes; books; unusual regional products
Childhood Pleasures: Dutch Children in the Seventeenth Century was launched at a glittering book party at Lawrence Steigrad Fine Arts in New York City in the presence of various Dutch and American dignitaries. Food historian Peter G. Rose prepared a table with Dutch treats, some from 17th-century recipes including a Duivekater, (holiday bread), shown in the upper right corner.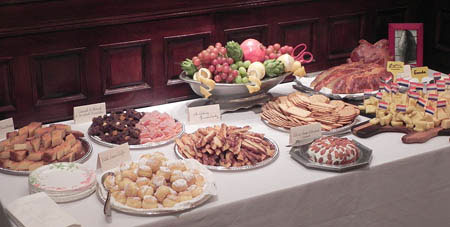 The authors Donna R. Barnes, right and Peter G. Rose, left with Peggy and Larry Steigrad, owners of the hosting gallery.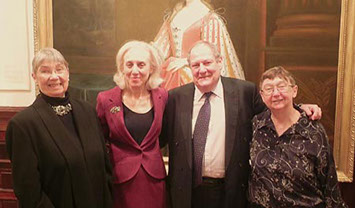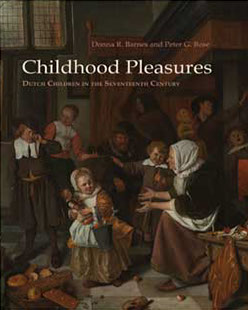 Childhood Pleasures
Childhood Pleasures discusses an essential part of the story of the seventeenth-century Netherlands: the children, how they were raised and taught, how they played and what they ate and drank offer fundamental insights into Dutch lives. The images in the book are organized around eight themes: Infancy; Saint Nicholas: Bringer of Sweets and Toys; Celebrations and Music; Toys and Games; Animals as Pets and Companions; Inventing Fun, Games, and Mischief; Shopping for Food Treats; and Winter Activities: Outdoors. A recipe chapter provides inspiration for cooking projects, allowing children to prepare tastes of the past. Through words and images we learn that while some pleasures enjoyed by Dutch youngsters 400 years ago have changed, some have remained the same and are sources of fun and excitement for children today.
"In Childhood Pleasures, Barnes and Rose reveal the wonder of being a child in the seventeenth-century Netherlands and remind us of the basic human connections that exist between that distant world and ours."
--Arthur K. Wheelock, Jr., National Gallery of Art
"Food historians seek images to enhance our understanding of the texts we study. The authors are to be congratulated for seeking out such illuminating records of children's pleasures. They simultaneously increase our knowledge and our delight."
--Barbara Ketcham Wheaton, author of Savoring the Past: The French Kitchen and Table from 1100 to 1789
"A fascinating look at children's pleasures in the seventeenth-century Netherlands. Outstanding!"
--Martha Dickinson Shattuck, New Netherlands Research Center
(To order an autographed copy, email pgrose2006@yahoo.com)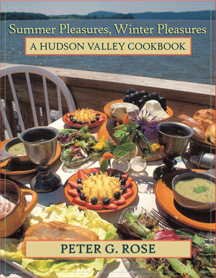 Hudson Valley Summer/Winter Pleasures.
Excelsior Editions, SUNY Press, 2009.
Drawing on the rich historical and culinary legacy of the Hudson Valley, Rose offers simple, easy-to-make recipes for patio, boat, cabin, or RV in the summer and for enjoying by the fireside in the winter. Along the way she offers tidbits of food history, ideas for entertaining, and suggestions for using local ingredients. Informative and tasty, the recipes showcase the Hudson Valley as both a culinary and historic destination.
(To order an autographed copy, email pgrose2006@yahoo.com)
A sample recipe from the book:
Salmon spread
8 ounces smoked salmon, finely chopped
1/3 cup EACH mayonnaise and reduced-fat sour cream
3 scallions, finely chopped
2 heaping tablespoons non-pareil (tiny) capers, or large chopped capers
Salt and lots of coarsely ground fresh pepper, see note
In a small bowl, combine the ingredients and spoon into a pretty bowl and serve with crackers.
NOTE: Taste before seasoning because commercial smoked salmon can be very salty.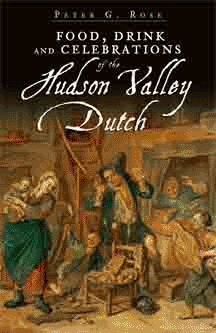 Food, Drink, and Celebrations
of the Hudson Valley Dutch.
The History Press, 2009.
While the Dutch influence can still be seen in local architecture and customs, it is food and drink that Peter Rose has made her life's work. From beer to bread and cookies to coleslaw, Food, Drink and Celebrations of the Hudson Valley Dutch is a comprehensive look at this important early American influence, complete with recipes to try.
Here is a recipe from the book for a great drink on a hot summer's day!
Years ago, Mary Young and Evelyne Richardson of Harlem, NY, who prepared African food at one of the early Pinkster Festivals held at Philipsburg Manor in Sleepy Hollow, NY, gave me the following recipe for a wonderful, seemingly intoxicating, non-alcoholic drink.
Ginger beer
1 cup minced fresh ginger (about 1/2 pound)
1 quart boiling water
Juice of 2 lemons
3-1/2 pineapple juice
Generous dash of freshly grated nutmeg
Sugar to taste
In a quart jar combine ginger and water and steep for 3 hours. Strain liquid into a large pitcher; add the lemon and pineapple juice. Stir in the nutmeg. Taste and add sugar as necessary. Serve over ice cubes.
The ginger beer is also very good as a cocktail: for every 8 ounces of ginger beer add 1-1/2 ounces of light rum. A great drink for a hot summer's day!
$19.99, plus shipping
(To order an autographed copy, email pgrose2006@yahoo.com)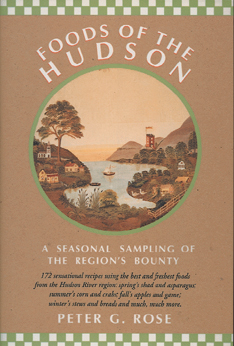 Recipes and food history of the Hudson Valley
Foods of the Hudson: a seasonal sampling of the region's bounty. 172 recipes for spring's shad and asparagus; summer's corn and crabs; fall's apples and game; winter's stews and breads and lots of regional food history. Includes a chapter on fireplace (open hearth) cookery.
Here is a sample recipe for a highly flavorful venison chili, which can also be made with beef. The recipe comes from Lithgow Deer Farm in Millbrook, NY, which raises a herd of approximately 300 fallow deer. The animals are sold as breeding stock all over the United States and as meat to local restaurants. This dish is frequently served during the once a year roundup at the farm, hence its name.
Lithgow roundup chili
3 pounds venison burger (ground venison), or use ground beef
1 medium onion, chopped
2 cloves garlic, minced
1 12-ounce can of tomato paste
1 29-ounce can tomato puree
1-1/2 tablespoon Dijon mustard
1-1/2 tablespoon ground cumin
1 tablespoon ground coriander
2 tablespoons chili powder
4 cans (15-ounces each) dark red kidney beans, drained
In a large kettle, brown the venison, or beef, onion, and garlic. Pour off excess fat, if any. Add tomato paste, tomato puree, mustard, cumin, coriander, and chili powder. Mix well. Stir in the kidney beans and heat through. Season with salt and freshly ground pepper to taste. Serve with red pepper flakes, sour cream and grated Cheddar cheese as garnish. Serves 6 - 8.
Price: (paperback) $16.95, plus shipping.
(To order an autographed copy, email pgrose2006@yahoo.com)
Gourmet's reviewer Anne Mendelson remarked "There could be many volumes like Peter Rose's Foods of the Hudson but there aren't. The author casts a net as wide as the old New Amsterdam Dutch, modern Jersey City Puerto Ricans, and Mohawk and Lenni Lenape Indians. The recipes are arranged by season, a touch I like."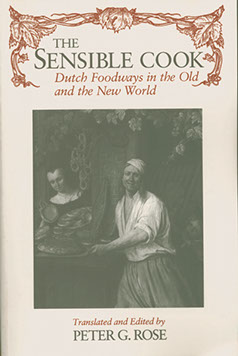 The Sensible Cook
Dutch Foodways in the Old and the New World.
Syracuse University Press, 1989 and 1998
It contains a translation of the definitive Dutch cookbook of the 17th century. An introduction explains what recipes, plants and seeds the Dutch brought to America. It records the cooking methods and typical dishes they prepared, and the implements and ingredients they employed. It includes recipes for the modern kitchen.
Here is a sample recipe for caraway cookies from the book. They were adapted from the handwritten cookbook of Anna de Peyster from the archives of Historic Hudson Valley in Tarrytown, NY. She suggests to "drop them in Lumps As big as Nutmegs" and calls them:
Small seed cakes
1/2 cup butter
1 cup sugar
2 eggs
2 cups flour
1 tablespoon caraway seed, crushed with a rolling pin
Preheat the oven to 350 F. Cream the butter with the sugar. Add eggs one by one and incorporate thoroughly. Add caraway and flour a little at a time, stir well. Use two teaspoons to shape the cookies about the size of a nutmeg and place them on a buttered baking sheet. Bake for about 15 minutes, or until the rims are browned. Makes 4 dozen.
The New York Times describes it as: "a rich picture of a people who ate well and heartily, and stocked their larders with a range of fruits, meats and spices that even by today's standards would be considered varied."
Price: (paperback) $19.95, plus shipping.
(To order an autographed copy, email pgrose2006@yahoo.com)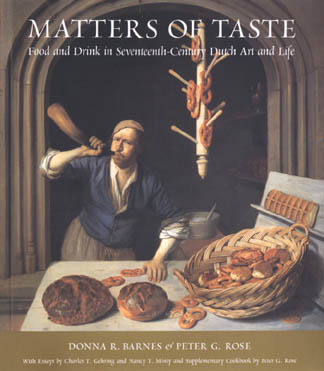 Matters of Taste: Food and Drink in 17th-Century Dutch Art and Life
Syracuse University Press and the Albany Institute of History and Art, September, 2002
This lavishly illustrated volume offers a unique approach to both culinary and art history. Each of the sixty paintings presented are discussed both from an art historical and culinary point of view and accompanied by a period recipe. In turn, these recipes are adapted for the modern kitchen in an accompanying cookbook.
Drawn exclusively from American museums, art galleries, and private collections, the artworks portray still lifes, Dutch tavern and market scenes, and festive occasions by more than thirty Dutch artists including Jan Steen, Adriaen van Ostade, and Pieter Claesz.
Here is a sample recipe from the book. Coleslaw now is accepted as an American dish, but it was the Dutch who introduced it here. Its origin is sometimes so forgotten that is referred to in some cookbooks as "cold slaw," but the name comes from the Dutch word "kool" or cabbage and "sla" or salad. The Dutch frequently used a dressing of melted butter and vinegar.
Coleslaw (koolsla)
4 tablespoons hot melted butter
1/3 cup wine vinegar
Salt and freshly ground pepper
2 cups green cabbage, cut into thin strips
2 cups red cabbage, cut into thin strips
In a saucepan, melt the butter, stir in the vinegar, salt, and pepper and heat through. Pour dressing on the cabbage and toss to combine. Make sure the cabbage is at room temperature when dressed and be sure to keep the coleslaw at room temperature, or the dressing will congeal. Allow to stand at least 1 hour before serving.
Gillian Riley said in her review in Gastronomica:
"This book delights with its well-reproduced paintings, the meticulous descriptive notes of the contents, their possible interpretations, and insights into what foodstuffs people ate and how they cooked them. Art historical and gastronomic studies here complement each other and enhance our appreciation of the artists' works, an admirable example of how food history can illuminate art history, while taking on board the complexities of interpretation that might otherwise distort our vision."
"Ms. Rose has interpreted traditional recipes for modern kitchens, among them salmon in a thickened pepper sauce, sliced turnips braised with butter and sugar, and almond tartlets. She also includes instructions for hearth cooking."
---New York Times